When it comes to blog writing, there are no hard-and-fast rules, right?
It's a bit of an ethereal process: you write a blog post, you promote it, and through a strange form of osmosis, your business benefits.
As for a question like 'How often should I blog?', well, who really knows? There are marketing agencies and businesses that blog dozens of times a week; and there are those who literally never blog.
You'd love to maximize your traffic, engagement and lead generation, but blogging…it's all just guesswork.
[googlefont font="Oswald" size="30px"]
Blogging isn't guesswork – it's a science

[/googlefont]
We've previously spent some time looking at the cold, hard facts of blog writing – and the impact blog writing can have on a business. The statistics were crystal-clear – and we saw that those agencies and brands that choose to blog see more indexed pages, links and leads than those who don't. In other words, blogging is better than not blogging. But what about blog frequency? How often should we post to our blog?
Although you might not realize it, the impact of blog frequency is just as clear . The amount of blog posts you publish each week directly affects your traffic, leads and conversion rate – and we can measure that impact. Getting the most out of your own content marketing and blog marketing efforts requires an understanding of these trends; and courtesy of some awesome data from HubSpot, we can analyze the science of blog frequency.
[googlefont font="Oswald" size="30px"]
Blog Writing Frequency and Website Traffic

[/googlefont]

Blogging generates website traffic through two major channels: social media marketing and search engine results.
[googlefont font="Oswald" size="20px"]
The Impact of SMM on Website Traffic[/googlefont]
Promoting your content though social media channels encourages direct website visits from your Twitter, G+, Facebook, Pinterest and LinkedIn followings. If your content is relevant, interesting and valuable to your social following, you're likely to see heavy engagement with it. This engagement will take the form of click-throughs to your site, and social sharing. This sharing widens the reach of your blog post to other relevant people, and drives further traffic.
More blog posts equates to more content to share through social media. If you're able to double your blog writing, from 1 weekly post to 2, you double the chances of your following engaging with your website. If your first post doesn't resonate with your target audience, your second might; and if your first post does appeal to your audience, great! You stand to double your direct traffic.
[googlefont font="Oswald" size="20px"]
The Impact of SEO on Website Traffic

[/googlefont]
Blog posts are great at ranking for long-tail keywords in Google. Concise, super-focused blog posts are incredibly relevant to particular search terms – like blog writing frequency or the science of blogging for this post. When combined with social signals, like those generated by SMM,  your blog posts become fantastic at ranking in Google. This opens up a whole world of traffic for your website – and with 33% of search traffic going through the #1 result on Google, ranking well can be a phenomenal boon to your site.
The more blog posts you write, the more keywords your website is likely to rank for. The more keywords you rank for, the more searchers are likely to find your content. The end result? A whole lot more traffic.
Don't believe me?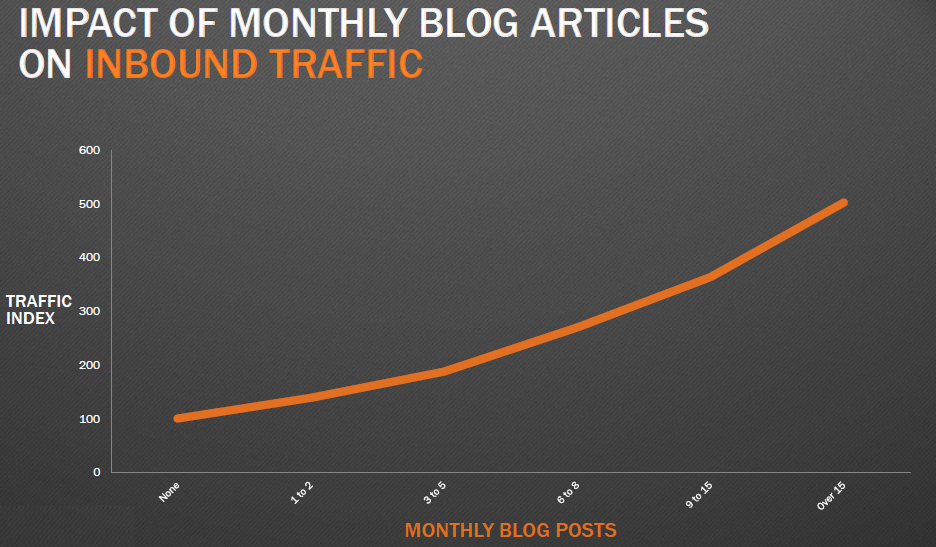 This awesome graph from HubSpot was compiled from 7000 companies-worth of data and research. The relationship between blog writing frequency and direct traffic was analyzed – and the results are blindingly obvious. There's a direct correlation between blog writing frequency, and website traffic.
The more you post, the more traffic you get.
If traffic is your primary concern, then great! We've hit the blogging-nail squarely on the head. Post more often, and you'll see significant increases in traffic, with 15+ blog posts published a week driving the most traffic.
If, however, your looking for something a bit more… meaningful than traffic, we have even better news. There's a direct correlation between blog writing and lead generation as well.
[googlefont font="Oswald" size="30px"]
Blog Writing Frequency and Lead Generation[/googlefont]
I was very careful with my choice of words earlier. I didn't talk about the traffic-boosting potential of blog posts and SMM – I talked about the 'relevant' traffic potential. I didn't talk about blog posts ranking for keywords – I mentioned ranking for 'long-tail' keywords.
Blog posts are fantastic lead-generation assets because they attract the right people to your website – those who are interested in your industry, and most likely to need your products or service. Targeted social sharing allows potential leads to share your content with other potential leads; and long-tail keywords attract relevant leads already in the later stages of the sales funnel.

Because of this, increasing your blogging frequency also has a direct impact on lead generation.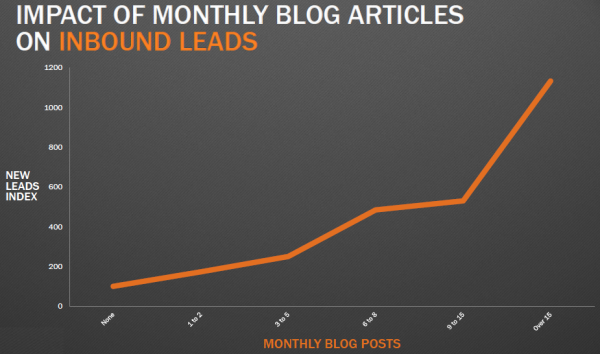 The trend continues – with the most leads generated by the businesses that posted most regularly. The simple act of upping your blogging frequency will directly increase your traffic and leads.
This trend hasn't gone unnoticed; and some of the biggest names in the digital marketing industry have seen staggering results by leveraging this effect:
[box style="1″]'
With Quick Sprout, I noticed slight gains when posting 2 pieces of content a week instead of 1. KISSmetrics only started to see big traffic increases when I started to publish 5 pieces of content a week. But with KISSmetrics, we went from publishing 2 a week straight to 5 a week.
By posting an additional blog post each week, we were able to increase our blog traffic by 18.6%. My experience of working with 20 of the top 100 blogs showed that if we published 3 pieces of content each day (21 pieces a week), we could easily get our traffic to over a million visits a month over time.'
Neil Patel, Quicksprout[/box]
[googlefont font="Oswald" size="30px"]
Blog Writing Frequency and Customer Conversion

[/googlefont]
Many marketers appreciate the traffic-driving and lead-generating potential of blog writing. As we've seen, the statistics are hard to argue with; and upping your blog post frequency will have a measurable impact on these two crucial metrics. However, traffic and leads aren't the most important metrics – and the award for most revered KPI is firmly awarded to the hallowed conversion rate.
Without conversion, all of the valuable time and hard-earned money you've invested into blog writing is completely wasted. Conversions are where you see your ROI – and by converting a blog reader into a paying customer, your blog becomes a viable and cost-effective marketing strategy.
We've already seen how regular blogging increases lead-generation; but it also increases conversion, albeit through less tangible channels. Trust  and authority are two psychological components that will affect the process of customer conversion, and regular blog content is a fantastic way of developing both for your brand and website. Assuming, of course, that the quality of your content doesn't suffer…
[googlefont font="Oswald" size="30px"]
Diminishing returns: when to stop blog writing[/googlefont]
The benefits of blogging hinge entirely on writing valuable content. To attract relevant people to your blog, engage with them in a meaningful way, and eventually convert them into paying customers, every single one of your posts has to add value to your readers' lives. You can do this in a variety of ways; by solving their problems, offering them free advice and resources, and even tackling topical industry issues.
Crucially though, creating value takes time.
Researching, drafting, reviewing and editing a valuable blog post will take hours; and the chances are that you don't have hours to spare. The greatest benefits from increased blogging frequency happen with 15+ posts published a week – so two paths lie ahead of you:
Spend less time writing your posts.
Outsource your posts to a blog writing service.
[googlefont font="Oswald" size="20px"]
15 posts a week? 

Woah. I don't have the time to blog that often!

[/googlefont]
Don't worry, you aren't alone. There are very few people who have the time to post insightful, valuable blog content, several times a week – and even marketing agencies with multiple employees can lack the resources, times and manpower required to benefit from regular blog content.
If you want your business, and your clients, to benefit from the science behind high-frequency blogging, a professional blog writing service is a viable option. By specializing in the creation of valuable blog content, these blogging services are able to provide regular, targeted blog posts, multiple times a week. Instead of rushing posts, and reducing the quality and impact of your blogging strategy, outsourcing could free-up valuable hours, resources and manpower – and you could begin benefiting from increased traffic, leads and conversions immediately.
[hr style="3″ margin="20px 0px 20px 0px"]
The science is clear – and to maximize the business benefits of blogging, you should post as much as possible. If you don't have the time to write 15+ blog posts a week, why not view our blog writing services? We can take the hassle out of blog management, and help you to grow a sustainable, cost-effective and business-generating blog.