Guest blogging is a divisive issue. Many marketers still condone the practice, touting it as a beneficial way to secure crucial backlinks and boost brand exposure. Others are more cautious, refusing to publish guest blogs or participate in outreach, for fear of Google penalisations.
If you work in the marketing industry, you've probably been inundated by guest blog requests. You've probably entertained the idea of publishing these posts. But what are the benefits of publishing guest posts?
What are the pros and cons of guest blogging?
[separator headline="h2″ title="Pros of Accepting Guest Posts"]
Generate more traffic, leads and conversions – for free
There's a direct correlation between blogging frequency, website traffic and lead generation.  Even basic levels of business blogging will significantly boost your traffic; but as the below graph illustrates, these benefits amplify with each and every  blog post you publish. Best of all, this excess of content will also work wonders for your conversion rates – nurturing your leads, and gaining their trust with each piece of content they consume.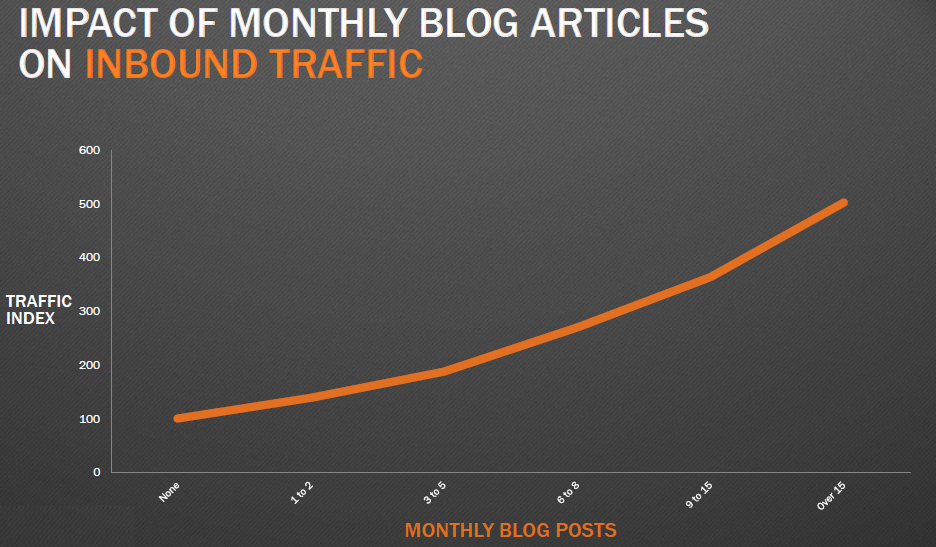 Content creation incurs a range of costs, from the opportunity cost of writing blog posts yourself, down to the expense associated with hiring a freelance writer.
By accepting regular guest posts, you can dramatically increase your blogging frequency. You can develop a consistent stream of new material, tackling dozens of relevant issues. You can do all of this without spending a penny. It's worked for some of the industry's biggest players, and it could work for you:
[box style="1″]
We grew the KISSmetrics blog to over 400,000 visitors a month, publishing blogs which mainly came from guest author contributions. We grew the Crazy Egg blog to over 100,000 visitors a month within a year… using the same strategy.
– Neil Patel, QuickSprout  [/box]
Read more: The Science of Blog Writing: How Often Should I Blog?
Target more keywords
Consistent blogging allows you to target dozens of lucrative keywords; attracting visitors to your site through search engine rankings. If you're able to offer your guest blogger some keyword input, you'll be able to benefit from improved search rankings very easily – but even if you aren't, guest blogging will still improve your SEO.
High-quality, industry-relevant content will naturally rank for keywords. Google is doing it's best to emulate actual readers – and the natural keyword inclusion in high-quality, popular guest blogging content will still be enough to boost your website's rankings.
Read more: 8 Principles of SEO Copywriting
Develop valuable connections and contacts
There's a tendency to think that guest blogging requests emanate exclusively from shadowy spammers and, even worse, automated programs. Whilst this is sometimes (and even often) the case, guest blogging also makes it possible to connect with the web's best writers.
Guest blogging is still a viable marketing tactic. Many up-and-coming writers, marketers and business people use it to increase their exposure; and if you're able to develop a working relationship with these people, you'll secure a consistent source of quality content.
[separator headline="h2″ title="Cons of Accepting Guest Posts"]
It can be hard to integrate with an existing blogging strategy
A well-executed blogging strategy will generate a series of cohesive, related posts. They'll each be designed to appeal to the pain points of a particular buyer persona, and they'll create a lead-nurturing progression from blog post to blog post.
Guest blogging, even when well-written, will struggle to integrate into your funnel. Whilst the occasional standalone blog post won't cause any issues for you, relying on guest blogging content may hinder your ability to nurture and convert prospects.
Read more: Download Your Free Buyer Persona Template
Guest blogging can damage thought-leadership
Many marketing agencies use their blogs as a showcase for the expertise of their team. It becomes a soapbox, a way of broadcasting their professional opinions and informed advice to potential clients.
Guest blogging may provide you with high-quality content, but it won't reflect your opinions and beliefs. It'll be written with a different tone of voice, and it may cause conflict with the tone of your existing blog content – as I explain in this excerpt from the HubSpot Partners Forum on LinkedIn:
[box style="1″]'
Whilst it may be an objectively helpful post, it'll be designed with a very broad appeal – and probably pitched to other agencies.
There'll be little congruence with your existing content, and brand ethos; and if you're using your blog as a showcase for your thought-leadership and opinions, unsolicited content may be too discordant.
From past experience, I've found that it could end up detracting from the authority of your blog, instead of adding to it.'[/box]
You can't guarantee the exclusivity of your content
As I recently discovered, there are no ways to safeguard the exclusivity of your content.
After being contacted by a reputable UK marketing agency (who shall remain anonymous), I explicitly asked the guest blogger to guarantee the exclusivity of their post. I was assured that the content would be written solely for my use, and as a result, I agreed to include it in my blog.
It was a great post – actionable, interesting and insightful. So great, in fact, that the agency clearly decided it was too good for my site alone.  It appeared (in identical format) on their own blog, several weeks later. As you're probably aware, this type of content syndication can cause problems for your website.
Whilst I'm not concerned about the implications of this particular post, I learned a valuable lesson about guest blogging – exclusive content isn't always exclusive content.
It's your reputation on the line
For many people, the crux of the guest blogging issue is simple: it's your reputation on the line. Everything you publish on your website will reflect upon yourself, and your brand – regardless of the author. Publication of content is like issuing a stamp-of-approval, and your audience will come to believe that the content you've published reflects your business, and its ethos. You are ultimately responsible for your blog and business – and you may not be comfortable publishing content from third-party sources.
6 Steps to Ensure Sustainable Guest Blogging
1. Ask for a portfolio. Look for samples of previous work, as well as examples of currently published content – ideally content with an assigned G+ authorship, to help vouch for its legitimacy.
2. Look for personalised outreach. A guest blogger's outreach can say a lot about the quality of their content. Look for personalised emails that reflect a knowledge of your business – and avoid vague, non-specific outreach. It's probably automated!
3. Monitor outbound links. A handful of outbound links is to be expected with any guest blog post – but beware bloggers who include dozens of links, especially to their own site. Tons of links usually suggests that content is created purely for SEO value – and the quality (and uniqueness) of the content should be called into question.
4. Assess quality and quantity. Be picky with guest blogging – seriously picky. Look for long content (1000 words plus), that tackles an important issue in a ton of informed depth. You're trying to build a market-beating blog resource, so remember: good content isn't acceptable. Accept incredible content, and nothing less.
5. Ask explicitly about exclusivity, and where else it's going to be published. After publication, regularly check the author's own site, and consider using Copyscape. If it appears somewhere else, it's up to you to consider removing the post.
6. Develop a relationship. If you receive an incredible guest blogging submission, stay in close contact with the author. Incredible writers are a rare and prized commodity, so don't let them get away!
[hr style="3″ margin="40px 0px 40px 0px"]
If you're looking to improve the quality of your blogging efforts, but guest blogging don't appeal, get in touch! I'm a freelance marketing copywriter, and I specialise in creating whitelabel content for marketing agencies and their clients. I work with some of the UK's brightest and best agencies, creating standout blog, whitepaper, web and email content. Learn more about my copywriting services, and get in touch now for a free content consultation!